Air Source Heat Pumps
Air Source Heat Pumps deliver "green" energy saving heating and hot water at low cost all year round by utilising the latent energy available free from the air to produce heat. Savings can be significant compared with conventional heating systems.
Air source heat pumps are operated from a remote control in a similar way to air conditioning units and are suitable for many applications including smaller homes, apartments, and conservatories.
We supply and fit NIBE and Mitsubishi Ecodan air source heat pumps.
An Air Source Heat Pump installation in Llangollen
Air to Water Heat Pump Systems

NIBE air to water heat pumps are designed to be used as the sole source of heating and hot water for the home.
They utilise the energy available in the air and run it through a refrigerant circuit that boosts the temperature to a level suitable for heating or hot water.
The G3 regulations require products that store in excess of 15 litres of hot water are equipped with safety devices capable of preventing the water from exceeding 100°C. NIBE air to water systems are fully approved and meet the legal requirements of G3 regulations.
---
We are VIP installers for NIBE heat pumps.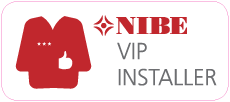 ---