Latest News
AW Renewables now accept debit card and credit card payments thanks to Handepay
An increasing number of customers have been asking to pay by card so Ashley decided to look into the cost of accepting card payments. He had heard about Handepay through a business networking group and their advisor impressed him immediately with her professional approach to business and client care. This ultimately led to the decision to choose Handepay as a supplier of the service.
Being able to accept card payments with the countertop terminal has been a big step forward for our customer service, improving our flexibility. We can now take card payments over the telephone as well as face to face, which has had the added advantage of freeing up time, allowing us to focus on our core business.
---
AW Renewables part of successful launch event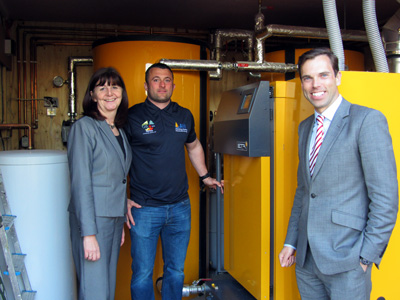 A successful event was held at Tower Hill Barns, Trevor recently where a number of local businesses were showcased including AW Renewables from Llangollen. The event provided an opportunity for Ashley Wilson, owner of AW Renewables, to show invited business members the latest in biomass technology. The company has installed a 70kW pellet boiler at the venue and members of the business community were able to see the installation in place.
"We enjoyed a great evening where businesses came along to see the newly developed wedding and conference venue and the work of local businesses who have supplied products and services to create this new event venue" said Ashley Wilson. "This has been a great project to work on and is a good example for people to see how clean and compact biomass installations are".
Among the guests at the event were Ken Skates AM and Lesley Griffiths AM who took a keen interest in the work of the local businesses.
May 2015
---
AW Renewables prepares for Open Day
A joint Open Day event to showcase two local businesses is taking place on April 30 at Tower Hill Barns, Trevor where the doors will be opened to the public on the newly renovated wedding, conference and event venue. Local businesses are being invited to come along and view the facilities and also see the latest in biomass technology installed at the venue by AW Renewables.
"The Open Day provides a great opportunity for businesses to take a tour around the venue, view the facilities, meet the team and also take a behind-the-scenes tour to see how the latest in renewable energy installations is being used here" said Toni Godolphin, Events Co-ordinator at Tower Hill Barns.
Part of the huge renovations at the venue included the 70kw pellet boiler biomass installation which will supply the venue and adjacent cottage.
"I will be giving talks and advice during the event for businesses who are looking at possibly installing a renewable energy system, including the latest information on the government's Renewable Heat Incentive Scheme and the benefits they could be receiving" said Ashley Wilson from AW Renewables.
Andrew and Sally Marshall purchased Trevor Villa Barns in October 2013 and over the last seven months renovations have taken place to create a stunning new oak framed barn, able to accommodate 150-200 people.  Tower Hill Barns is spacious and draws in natural light from its vast by-folding glass doors giving fantastic views over the Welsh countryside. Conferences, events and weddings can all be booked at the venue and even before its doors are open, it has already taken a large number of bookings for weddings.
Businesses interested in attending the Open Day, which runs from 5pm -8pm should register their interest with Toni Godolphin, Event Co-ordinator at Tower Hill Barns on 01978 823429 or email bookings@towerhillbarns.co.uk.
March 2015
---
Business sense to employ local
AW Renewables is proving that local is best when it comes to saving money for your business. We have recently completed a major gas boiler installation at the JCB Transmissions factory on the Wrexham Industrial Estate, Wrexham.
"I know that a lot of businesses think they need to go a national company to get the best prices but we were really pleased to win the JCB contract and to be able to install industry leading equipment at the best price. We've worked with JCB to provide the best product for their needs and have installed two 65kw Worcester Bosch GB162 gas boilers and these are cascaded to give a 130kw system" says Ashley Wilson, business owner of AW Renewables.
Ian Pawley, JCB Transmissions' Maintenance and Site Services Manager, said: "The new system has been installed next to the main JCB Transmissions factory on the Wrexham Industrial Estate in an ancillary building and employing a local company to complete this work has been a big benefit. The work has been completed on time, within budget and the company is on the doorstep for any advice."
With a team of seven employees providing plumbing, heating and renewable energy products, commercial businesses can contact Ashley Wilson for the latest advice and guidance on the best product available for their individual business. Ashley can be contacted via the website enquiry form , telephone 01978 631 013 or 07860 563827.
November 2014
---
AW and Worcester Bosch Sponsor Llangollen FC
Worcester Bosch and AW Renewables Ltd have jointly sponsored the training kit and tracksuits for Llangollen Town FC.
May 2014
Llangollen Rugby Club Training Kit

---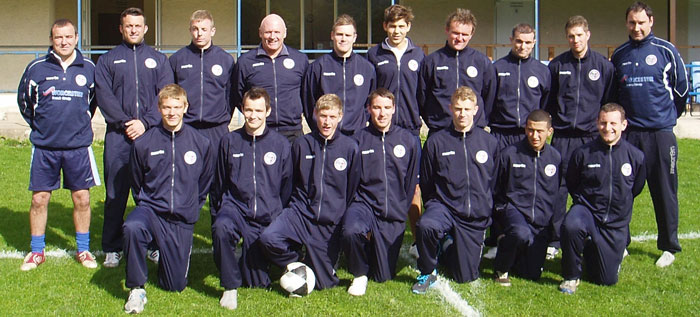 Picture: October 2012
---