Ground Source Heat Pumps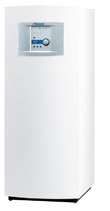 A ground source heat pump unit utilises the natural energy stored in the earth to heat your home.
We supply and install Worcester Bosch Greenstore and NIBE ground source heat pump systems, which are suitable for a variety of property types.
Two ranges are available: Combi and System.
---
The Worcester Bosch Greenstore Combi Range
Combi heat pumps have an integrated cylinder and are designed to be the sole source of heating and hot water in the home.
The Worcester Bosch Greenstore System Range
System heat pumps require a separate cylinder and can also be used with solar water heating.
---
What are the benefits of ground source heat pumps?
In short, they will reduce the amount of power your home consumes in heating your home. Electricity is required to power the ground source heat pumps but for every kilowatt of electricity used, the system is capable of producing four kilowatts or more of energy for your home.
| | |
| --- | --- |
| A ground source heat pump supplying an under floor heating system | Dual ground source heat pumps supplying a under floor heating system |
Are ground source heat pumps suitable for my property?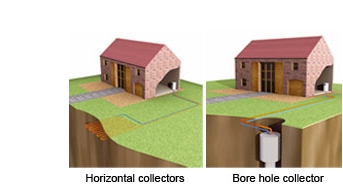 Many factors are involved in determining whether or not ground source heat pumps are suitable for a property. These will include insulation, heat distribution and the land area available for the heat pump collectors to be laid.
Two types are available:
Horizontal Collectors / Ground Loop Collectors
Bore Hole Collectors
Ground Loop Collector Installation
| | |
| --- | --- |
| Running a ground loop collector around an excavated trench for heat collection | Excavated trench for heat collection ground loop |
Excavation of ground loop collectors for Ground Source Heat Pump installation in West Felton
A useful calculator from Worcester Bosch: "Are Greenstore ground source heat pumps right for my property?"
---
Bore Hole Collector Installation
11kW IVT Ground Source heat pump installation in Llangollen
Where the site doesn't have sufficient available ground for the installation of an open loop ground collector, the alternative is a bore hole collector, which takes up very little ground area. The bore hole depth for a house is typically around 100 metres.
The installation cost the customer £25000, which included the borehole and internal plumbing works.
The customer will receive in excess £30000 from the domestic RHI scheme and also has very low heating fuel costs - just electricity to run the compressor in the heat pump.
We used top quality heat pump, buffer, cylinder and all pipe, fittings, valves and insulation etc.
| | |
| --- | --- |
| | |
| The pictures above show the drilling rig preparing to drill the bore hole for a ground source heating system in Llangollen, Denbighshire | The Ground Source Heat Pump installation |
Worcester Bosch Videos
Ground Source Heat Pumps (part 1 of 2
Ground Source heat Pumps (Part 2 of 2)
Ground Source Heat Pump Borehole Installation
---
We are VIP installers for NIBE heat pumps.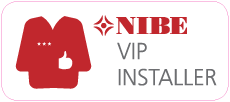 ---