Infrared Heating Systems - A revolution in Heating Technology
We are an approved distributor and installer for Infrapower infrared heating systems, covering Cheshire and North Wales.
Working with Cozycross Technology, Infrapower have developed a revolutionary infrared heating system that is cost-effective, efficient, healthy and environmentally friendly.
Infrapower Infrared Panel Heaters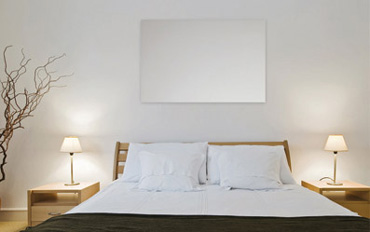 Infrapower infrared panel heaters have many advantages.
Some of the benefits:
low purchase cost
simple to install
economical to run with energy savings of up to 60%
reduced humidity - no more condensation
stylish and elegant
equal heat distribution
comfortable and healthy heating
higher efficiency
Long life (30 to 50 years or 100 000 hours)
10 year guarantee
eco-friendly - low carbon, 100% recyclable
Mirror Panel Heaters
Infra-red mirror panel heaters are ideal for bathrooms and shower rooms. As well as heating the room, they won't get steamed up! Wherever they are fitted in the house, the heater itself is completely hidden behind the mirror.
Pictorial Panel Heaters
The panels can even be ordered decorated with pictures from our wide range of stock images or even using your own images!
Far Infrared Terrace Heaters
Versatile and neat heaters form indoor or outdoor use. No light glare.
Also known as Long Wave or Dark Radiators, Far Infrared heaters operate at wavelengths over 3000 nm (nanometer) and emit lower temperatures than other infrafred heaters - around 100 degrees celsius typically, resulting in no visible light being emitted.
Both humans and animal skin is particularly good at absorbing Far infrared heat, which makes it an effective and efficient heat source for domestic and commercial applications. It is widely used in saunas.
Slimline Black Infrared Heater for wall or ceiling mounting.

1000 watt Slimline Heater

108 cm x 14 cm x 4.5 cm deep plus allow about 14cm for the wall brackets and 3.5kg in weight.

Black powder coated metal

Fit to ceiling or wall.

Should be mounted 1.8 metres or higher from the floor. The brackets allow for angling the heater to direct warmth just where you need it.

Also available: 1500 watt panel which is
1580cm long and 4.4Kg in weight – most of the other details are the same.

Use a number of small heaters across the ceiling to heat a larger area.

Ideal for hot yoga, therapy, massage or fitness rooms. Conservatories, garden rooms, sun terraces and covered patios. An effective solution for rooms with high ceilings or particularly cold areas.
The low energy consumption of Far infrared heating technology makes the units attractive for helping to achieve the energy saving requirements for new buildings, whether homes, offices, hotels or public spaces.
Please contact us for more information or advice on infrared heating solutions for your home or commercial premises
---
How Infrared Heating is so Energy-efficient
Whether you feel warm or cold doesn't necessarily depend upon the temperature of the air around you (the ambient temperature). You can be in cold air and still be warm. Probably the best example of this is skiers and mountain climbers, who can sunbathe in extremely cold ambient temperatures. This is because of the sun's rays, which include infrared. This heat acts directly on the skin, whether it comes directly from the sun or is reflected from the environment - snow, rocks, buildings etc. When infrared heat waves come into contact with a surface, energy is released as heat - completely independent of the air temperature.
If this is applied to heating devices, instead of having to heat high volumes of air as convection heaters do, only the surfaces of the infrared heaters need to be heated, which can result in around 32% less energy requirement from infrared heaters when compared with convection heaters.
The key points:
heating the surface area rather than high volumes of air requires around 32% less energy
warm air convection heating in a cold environment can leave you uncomfortably cold
with warm air heating systems, when the heating is turned off the room cools down rapidly, whereas with infrared heating the fabric of the building will remain warm for much longer