Power Flushing
Does my central heating system need power flushing?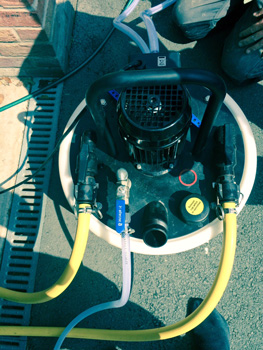 Over time central heating systems build up deposits of calcium sludge and oxides. Severe build-up of these deposits means there could indicate that air is getting into the central heating system, which will also cause radiators and heat exchangers to corrode and can damage pumps and motorised valves. Radiators can develop pin holes and the resultant leaks of the oily black sludge can lead to damages carpets and flooring. .

Blockages slow down the transfer of heat which can lead to severe damage to pipes, valves and heating controls, which can even lead to the need for a replacement boiler.
Whenever a boiler is replaced it is necessary to carry out flushing of the system to prevent contaminants from damaging the new boiler. Failure to do so could lead to early failure of the new boiler and will invalidate the warranty.
If you have any concerns we will be pleased to assess the condition of your central heating system. You can be assured that we will only recommend power flushing if it is necessary but, if the system hasn't been flushed out for some years it is almost certain to benefit from power flushing.

Some indicators that the system might be in need of power flushing :
The boiler is switching on and off frequently
Frequent breakdowns
The boiler makes knocking noises
The boiler making noises like a boiling kettle
Combination boiler: the hot water system alternates between being hot and cold. This can deteriorate until there is no hot water at all.
Central heating radiators take a long time to heat up
Cold spots in radiators
Radiators are not as hot as the feed pipes
Benefits gained from power flushing
Quieter boiler
Quieter system
Hotter radiators
Radiators heat up quicker
Radiators don't have cold spots
Lower gas bills
Higher hot water temperature
Reduced risk of breakdown
Fewer breakdowns
A warmer house
Our power flushing services are priced competitively and come with a full guarantee.
What next?
Complete an enquiry form or give Ashley a call on 01978 806075 to arrange a power flush or a system assessment.